Hello, Backdrop community.  Back in my college days, I was heavily involved with a band called Dreamspeak.  I registered the domain dreamspeak.com in the late 90s, and for most of the time since then I've had a site available there -- more often than not, something I've been embarrassed about!  My first Drupal site, in 2008, was a version of the Dreamspeak site.  But it hasn't really changed in 10 years, and even its modest presence fell into disrepair.
Last year, I began to try to reimagine the site in Backdrop.  I created most of Dreamspeak's posters, so the first thing I did was create what I think is an entertaining splash page referencing our current Zoom culture.  (I know splash pages have been out of vogue for decades now, but poster art was one of the main things I did for the band, so I thought it was appropriate here.)  I put together some thoughts, gathered some content, but then life got in the way enough to keep it on the back-burner for a long time...until now.   Coming into 2022 as a new empty-nester, I finally buckled down this month and did enough work on it that I'm willing to release it.  So I've set a date, to keep the focus and pressure on, and that date is Feb 4 -- next Friday.
Here's a link to the main online dev site: http://dev.dreamspeak.com/
(I don't mind it being out there, it's already far less embarrassing than the current www.dreamspeak.com site)
Here's some screen caps of the dev site as of tonight, January 29, both to preserve the history a little, and so you don't have to click through to see it -- especially if you're not on a desktop, since the mobile presentation is still pretty sketchy.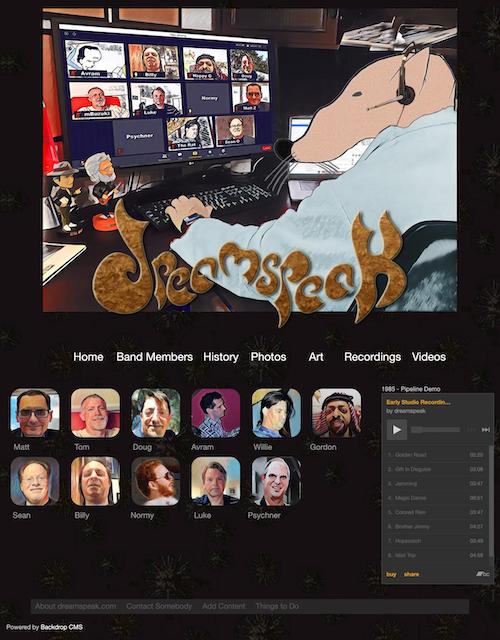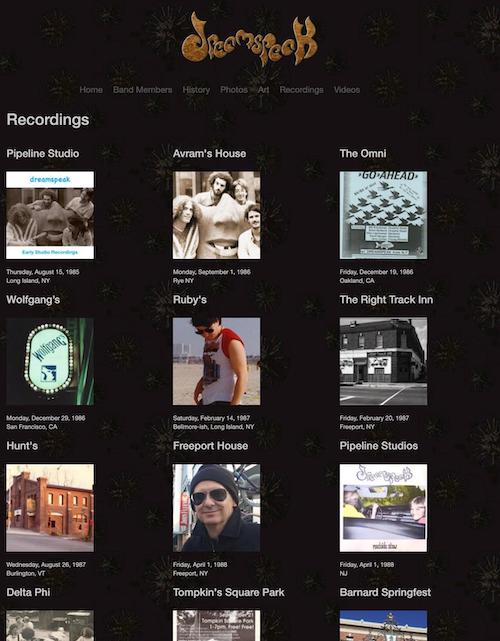 Anyway, here are some of the things I'd look for opinions about:
Information architecture.  I've built up the site's structure mostly around two kinds of elements.  First, there are the band members themselves.  Dreamspeak broke up over 30 years ago, and each of the members have continued on.  Ultimately, I see that as being the source for most new content that comes into the site.
Front-end work, especially responsive behavior.  I've kept the mobile behavior well in mind throughout the design of the site, but I definitely did not design it mobile first, both for practical reasons and because of the nature of the site.  Many of the visuals are best experienced on a large screen, and I wanted to optimize that experience, while still making sure the features that work well on a small device are fully functional.  (In this case, that means making sure the extensive audio -- dozens of hours, probably 200-300 songs -- that's available on the site function well.
How to best add crowd-sourcing features.  I'm hoping that members of the community will help to contribute content to the site, potentially a great deal of it.  I want to make that possible, while at the some time not wanting to become a home for spammers and other scammers.
I'll dive deeper into these and other issues in this thread's comments, tomorrow and in the following days.