Hello BD friends,
This happens to me on a second site that I upgrade to Backdrop 1.22.0.
When starting the script for updating the database, error messages appear for a missing module - Entity tokens (I did not consider taking a screenshot, I quote from memory).
To answer this problem, I install the Entity Tokens module:
https://backdropcms.org/project/entity_token
As a result, the update script runs without any more error messages, but those appear in the Status report.
Tokens
Problems detected
The following token types do not have any tokens defined:
$info['tokens']['i18n_translation']
The following token types are not defined but have tokens:
$info['types']['comment']
The second message disappears if I activate the Coments module (although I do not use it on this site in any content type).
However, I do not know what to do about it
$ info ['tokens'] ['i18n_translation']
The i18n module is active on the site and together with the system update I updated it from the previous version
i18n-1.x-1.0.0-alpha3
to
i18n-1.x-1.0.0-beta1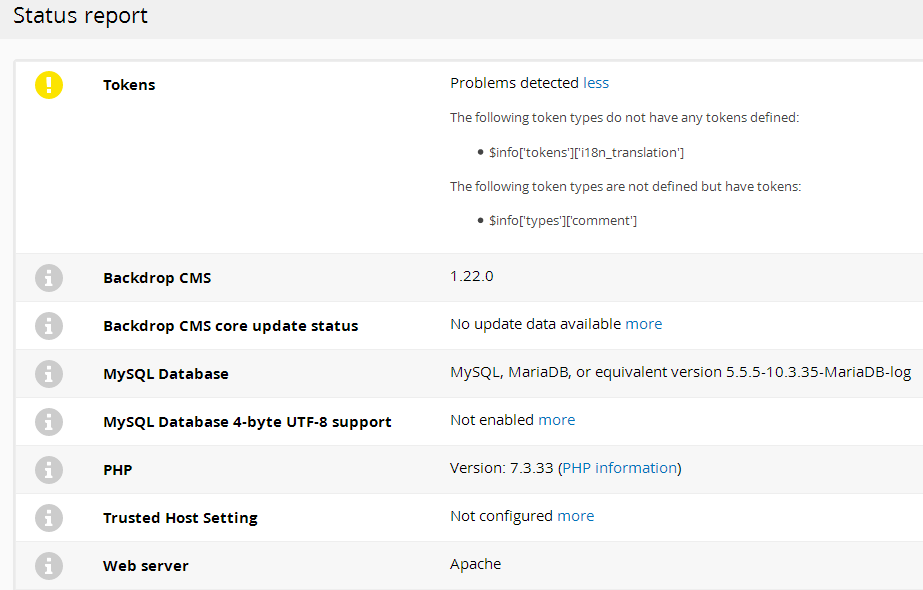 UPD: The request to install Entity tokens is probably due to the fact that on this site, as well as on the previous (first one upgraded to 1.22.0, where there was the same requirement), the Rules module is active, and on the first site Rules is required for Ubercart to work.